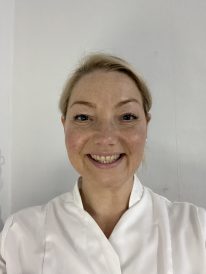 Founding Managing Proprietor and Osteomyologist
Member of the Association of Osteomyologists ID 674931; BSc (Hons) Human Biology; BSc (Hons) Osteopathic Medicine; Osteopathy Diploma; Naturopathy Diploma; ANLP Professional member; Certified Hypnotherapy Practitioner; Certified NLP accredited practitioner; Trauma Informed Training Certificate; Mental Health First Aid Certificate
Deborah offers Osteomyology appointments on Tuesdays 10:30am-5pm and Thursdays 1:30pm – 8pm
Deborah established TOMClinic in 2007 as a newly qualified osteopath and naturopath with the support of her late husband Sean, who managed the business and the day to day running of the practice. TOMClinic quickly became busy and took on its first associate osteopath within the year. Following a short illness with cancer Sean passed away in 2008 and Deborah took on the management of the practice whilst continuing to practice as an osteopath.
Throughout Deborah's time practicing as an osteopath, her many testimonials reflect the positive impacts she has made for her patients. Deborah has been called upon as a regular expert on BBC Three Counties radio and featured on various media platforms.
In 2017 due to Deborah's health challenges with cystic fibrosis she retired from osteopathy. Deborah continued to manage the practice and support the associate osteopath team to ensure the maintenance of the highest professional standards of care and the smooth running of the practice.
In 2018 thanks to the incredible generosity of her organ donor, their family and the skills and dedication of the NHS, Deborah received a life saving double lung transplant. Since then while shielding at home she continued to run the practice virtually and further qualified as a Hypnotherapist, completed further CPD in Trauma Informed training and practiced virtually as a Hypnotherapist and NLP professional.
Following accumulating CPD training with a view to return to hands on practice, in June 2022 Deborah registered as an Osteomyologist with the Association of Osteomyology and returned to face to face practice using all of her qualifications and extensive clinical experience in osteopathy, naturopathy, hypnotherapy and NLP. Deborah continues to manage TOMClinic.
Deborah also invests her second chance at life as an organ donation advocate https://www.organdonation.nhs.uk with https://www.facebook.com/sharingyourwishes and loves nothing more than long walks with her beloved miniature dachshunds and keeping fit!